SEVR 21″ HD Archery Target with Easy-Pull Foam
$199.99
WHY WE MADE THIS:
To provide bowhunters a bigger, more durable, and easier to pull target at a factory direct lower price.
Free Shipping (U.S. Only) No shipping available outside the U.S. for this product. 
No Shipping To P.O. Boxes
Orders ship complete. 
If you are using a high powered crossbow, we do recommend using arrow lube.
In stock
Description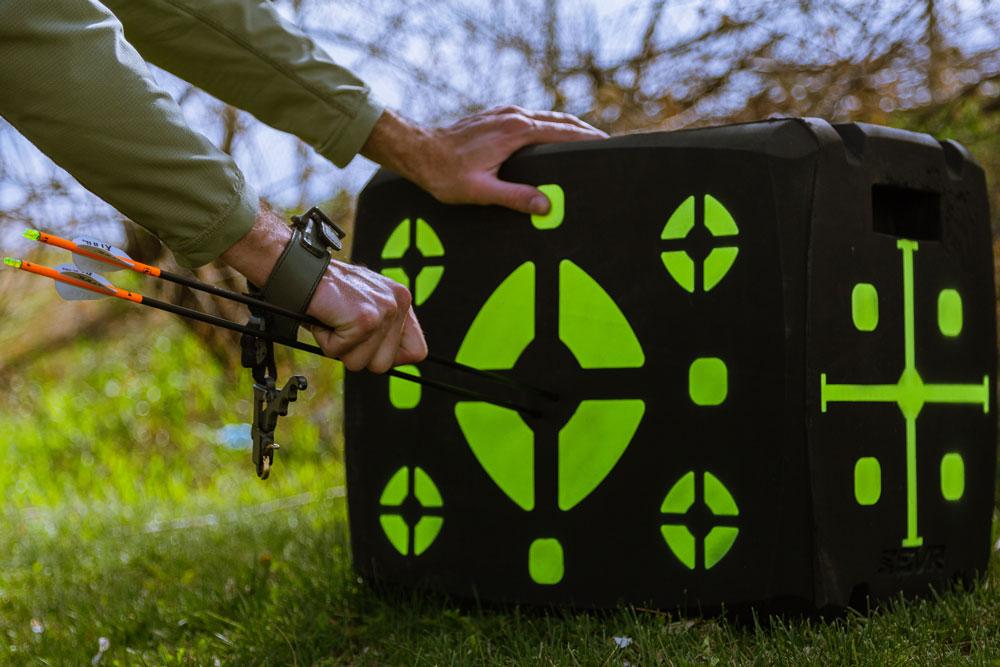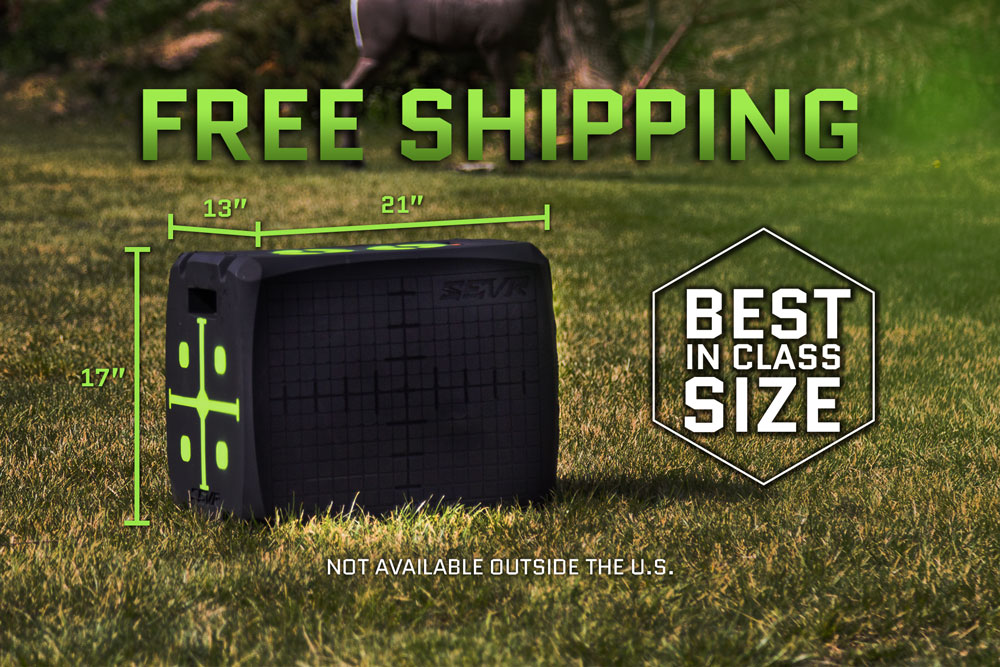 OVERVIEW:
BEST-IN-CLASS SIZE
Boasting a massive 4600+ cubic inches and an oversized 21″x17″x13″ 4:3 aspect ratio face. The SEVR 21″ HD is the largest poured foam cube target in its price class and a full 40% larger than Rhinehart's Rhinoblock.
SEVR THE COST
SEVR's consumer-direct model, 21″HD target is 29% larger but sold at the same price as competing retail brands smaller targets. (lasts longer and costs you much less over time.) The Sevr 21″ is the best archery target for your money. 
NO SPEED LIMIT
Made in USA with 31 pounds of the highest quality high-density self-healing foam, SEVR 21″ HD target can withstand thousands of shots at high speed from any bow or crossbow.
MORE CONVENIENT
Includes: an integrated 1″ sight-in grid, sight-calibration face, tie-down strap channels for target stacking capability, molded-in side handles and an arrow puller holder.
WAIT THERES MORE!
Every SEVR 21″ HD target includes 10 moveable shootable aimpoint tees and a premium rubber arrow puller (A $15 value) for FREE!
Now with Easy-Pull Foam, pulling arrows has never been easier. The SEVR™ 21" HD target is the first poured-foam cube target to feature an oversized rectangular 4:3 aspect-ratio face. Measuring a generous 21"W x 17"H x 13"D, its versatile shape is 28% larger than the leading competitor and allows it to be shot horizontally to accommodate multiple shooters or vertically for long-distance confidence. Features integrated tie-down channels so multiple targets can be strapped together to create a larger range-type target.
The SEVR HD uses a new, easy-to-pull high-density urethane foam developed exclusively for SEVR. The 21" HD target maximizes arrow stopping using either field points or broadheads. Speed rated for the fastest vertical bows and crossbows. A lower arrow pull force makes for a better practice experience.
A generous 4,600 cubic inches of volume with a sturdy mass weight of over 30 pounds, the SEVR™ 21" HD target offers an extended shooting area for longer distances and extended target life. Combines a larger size with a more durable foam for a higher shot count life over other solid-foam cube-type targets.2 As a comparison, other leading targets sell for over 40% more—$.05 per cubic inch versus just over $.03 per cubic inch for SEVR HD. Only SEVR's direct-to-consumer model combines comparable quality with a 40% better value versus the leading retail brands.
The SEVR™ 21" HD target offers unique value-added features including, integrated molded-in carry handles, high-visibility painted target spots, a blank side with a 1" MOA sight-in grid, golf-tee style target pins, and a FREE high-quality rubber arrow puller. MSRP value of over $250, the SEVR™ 21" HD target is available with a factory-direct price of just $199.99 and free shipping.
FEATURES:
· Largest-in-class size – 21" W x 17" H x 13" D (4641 cu inch) 4:3 aspect ratio shooting surface.
· For use with the fastest vertical bows and crossbows.
· Easier-to-pull specially formulated "self-healing" foam.
· For use with all field points, mechanical, and fixed blade broadheads.
· Molded-in carry handles.
· High visibility painted target spots.
· Six shootable sides.
· Blank side molded-in grid for sighting in.
· Sturdy 31 pounds weight
· Weather resistant
· Made in USA
· Includes FREE arrow puller and target pins.